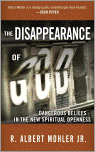 "More faulty information about God swirls around us today than ever before. No wonder so many followers of Christ are unsure of what they really believe in the face of the new spiritual openness attempting to alter unchanging truth.
For centuries the church has taught and guarded the core Christian beliefs that make up the essential foundations of the faith. But in our postmodern age, sloppy teaching and outright lies create rampant confusion, and many Christians are free-falling for "feel-good" theology.
We need to know the truth to save ourselves from errors that will derail our faith." So says the back cover of  The Disappearance of God: Dangerous Beliefs in the New Spiritual Openness.
As biblical scholar, author, blogger, and president of The Southern Baptist Theological Seminary, Dr. Albert Mohler writes to answer weighty questions including:
Is God changing His mind about 

sin

?
Why is hell off limits for many pastors?
What's good or bad about the "dangerous" emergent movement?
Have Christians stopped seeing God as God?
Could the role of beauty be critical to our theology?
Is liberal faith any less destructive than atheism?
Are churches pandering to their members to survive?
Perhaps you have asked yourself some or all of these questions. If not maybe you should be asking these questions.
This little book was a concise, helpful overview of some of the issues facing the Evangelical church in the 21st century. Dr. Mohler applies his theological acumen to practical issues facing church leaders and American Christians.
Mohler is unafraid to challenge the status quo and voices his concerns about the state of the American church. His critique is straightforward  and incisive yet with a hopeful and redemptive tone. It is a call to "wake up!"
I enjoyed the book as a whole, but was particularly challenged by the chapters addressing "church discipline". While my church does practice church discipline Mohler helped me to understand it's importance much more than I had before.
According to Mohler discipline should be both "regulative" and "restorative". He notes 19th century Baptists for having regular "days of discipline" when the "congregation would gather to heal breaches of fellowship, admonish wayward members, rebuke the obstinate, and, if necessary, excommunicate those who resisted discipline."
Quoting one 19th century writer Mohler writes, "It has been remarked that when discipline leaves a church, Christ goes with it." This is a subject that we 21st century Christians could greatly benefit from wrestling with in our age of moral individualism.
The Disappearance of God is written at a popular level and should be easily accessible and helpful to anyone concerned about the health of the American church.