One of my favorite reads of 2013 was Crazy Busy: A (Mercifully) Short Book about a (Really) Big Problem by Kevin DeYoung. This book is short but is filled with tons helpful insights for those of us who struggle with busyness.
If you struggle with excessive busyness (like I do), I think this book could really help you. In fact, I believe in the message of this book so much that next week I will be giving away a free copy to one of my readers here.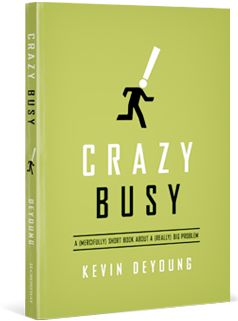 To have a chance to win a copy of this book simply subscribe to my blog by 10PM EST Thursday, March 6, 2014. Subscribing will enter you for the drawing to win a copy of the book. It will also allow you to receive the (helpful) content I post on this blog free via email.
After doing a drawing to determine the winner, I will email the winner to get your name and mailing address and send you a copy of the book.
Fine Print: If you win the drawing, you must respond to my attempt to contact you for a shipping address within 24 hours, and must have an address within the U.S. If you fail to respond to my attempt to contact you or don't give me a U.S. address you effectively forfeit to the next person whose name I draw.