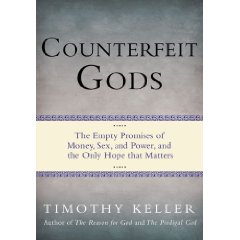 If you have been around me much recently you have probably heard me rave about a book called The Prodigal God: Recovering the Heart of the Christian Faith by Pastor Tim Keller. If you haven't read it – read it! In just over a hundred pages it gave me a much deeper understanding of the heart of God and His prodigal (wastefully or recklessly extravagant) love for both religious types and free-spirited types of people. (The book expounds the Parable of the Prodigal Son from Luke 15.)
If you are like me and want to read anything that Keller writes there is good news! Keller has another book coming out later this year called Counterfeit Gods: The Empty Promises of Money, Sex and Power and the Only Hope that Matters. You can pre-order it on Amazon. 
You can also find many audio interviews, and conference messages by Pastor Keller free online. The Monergism website has links to many of them here.